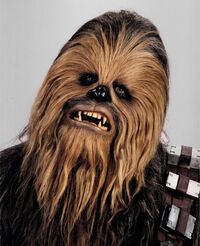 Chewbacca was a Wookiee warrior.
Behind the scenes
Edit
In a discussion om March 29, 2011 on TheStarWarsRP.Com, author Brandon Rhea announced that the famous canon character Chewbacca would make an appearance in the Alternative Star Wars Saga sometime in the future.[1]
Notes and references
Edit
Ad blocker interference detected!
Wikia is a free-to-use site that makes money from advertising. We have a modified experience for viewers using ad blockers

Wikia is not accessible if you've made further modifications. Remove the custom ad blocker rule(s) and the page will load as expected.